August 13, 2020
Human beings are social creatures by nature. We thrive off connecting with our friends and family, whether it's dining out, seeing a concert, or simply having a movie night. With the COVID-19 pandemic, the way we're interacting with our loved ones has drastically changed. But that hasn't stopped us from connecting virtually, according to our Ripple Street Research survey from our community of influencers conducted from May 12th to May 14th. Sixty-two percent of respondents are trying to connect with friends and family more online.
This is the eighth in a series of weekly surveys that Ripple Street Research is conducting in the coming months. We hope these consumer insights will help brands and agencies navigate the "new normal" when it comes to interacting with their consumers, and better inform their strategic marketing programs going forward.
Key takeaways from Ripple Street Research's eighth Consumer COVID-19 survey:
62% of respondents are trying to connect with family and friends more online
26% of respondents are using video chats to have happy hours
82% of respondents are watching more TV and movies during the pandemic
With the slow reopening of social venues in the coming months but no vaccine in sight, consumers may continue to socially distance in-person and connect more virtually.
Consumers connect in a digital-only world
With many states still in lockdown, except for essential employees, consumers are working remotely and mainly confined to their homes apart from going to the store for items like prescriptions, groceries, and cleaning supplies. COVID-19 is hitting the nation's metropolitan cities the hardest, but rural areas are feeling the effects as well. With this pandemic, consumers have all but shifted to a virtual world in both their professional and personal lives.
Despite this, respondents in our survey haven't lost their need to connect, and are finding new, engaging ways to interact with their friends and family. As mentioned previously, 62% of respondents are making more of an effort to connect with their friends and family online. Twenty-six percent of respondents are using video chats to have happy hours, 26% to play games, and 14% to cook together.
‍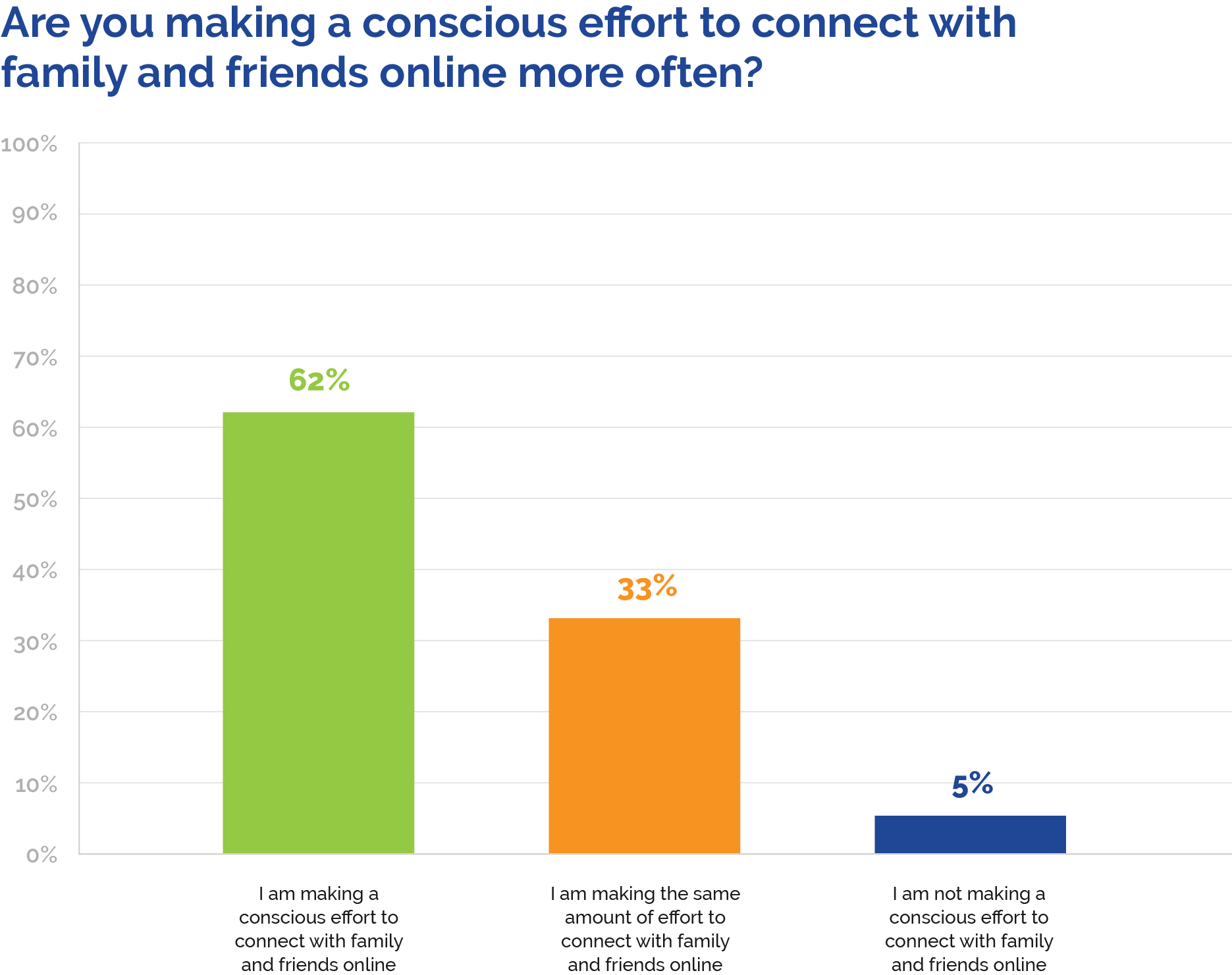 Is there a silver lining?
In no way, shape, or form is there a positive to this pandemic. However, it's changing the way corporations view working remotely, and families are spending more time together pre-COVID-19. Eighty-two percent of families are watching TV and movies, and 62% are cooking at home. More downtime also creates more opportunities for engaging in family activities, like playing games (54%), baking (48%), and gardening (40%). Time will tell what extent these reported behaviors will remain as restaurants, schools, and entertainment venues open back up.
B2C brands find new ways to engage consumers
Even before COVID-19, PwC research showed that 59% of consumers surveyed felt companies had lost touch with the human element of customer experience, and 75% of the customers surveyed preferred to interact with a human versus an automated machine.
This pandemic is creating a unique opportunity for brands to be more genuine, show vulnerability, and create a stronger relationship with their consumers.
For example, when Dove started its Real Beauty campaign back in 2004, (now the Dove Self-Esteem Project) it transformed itself from solely a soap company to a company with a vision. Its new mission statement was "beauty should be a source of confidence and not anxiety." By consistently aligning its marketing efforts with its mission statement. Dove changed its public perception to a brand that champions women's empowerment and changes the conversation around beauty standards.