Apri 24, 2020
‍As Americans limit their shopping trips to only the essentials, they are adjusting how they make food and beverage purchases. With fewer trips to the grocery store, trusted brand names are more important than before, while fresh protein and shelf-stable foods are the most purchased items, according to a Ripple Street Research survey of their community of local influencers, conducted from April 13th to 15th.
This is the third in a series of weekly surveys that Ripple Street Research is conducting in the coming months. We hope these consumer insights will help brands and agencies navigate these unprecedented times, and better inform their strategic marketing programs going forward.
Key takeaways from Ripple Street Research's third Consumer COVID-19 survey:
60% of respondents agree that purchasing a brand name they trust has become more important 
Fresh food and shelf-stable are the most important product qualities, ahead of nutrition and calories
35% of respondents have shifted to making more eCommerce grocery purchases 
61% of respondents said they're buying more snacks
As consumers continue to stay at home and practice social distancing to prevent the spread of COVID-19, grocery shopping represents one of the few ways that many Americans are venturing out of their homes on a somewhat regular basis.
While initial panic buying habits seem to have subsided, many consumers are still approaching grocery shopping in a different manner than they were before. In our first survey, consumers revealed that they'd be reducing trips to grocery stores. Our latest survey finds that purchasing trusted brand names is important in these uncertain times, that consumers value shelf-stable qualities more than nutrition, and that they are buying more snacks.
Here's a closer look at brand trustworthiness and consumer buying habits for food and beverage products.
Trust in brands names is critical
With consumers trying to follow guidelines for social distancing, they are looking to shop quickly and get out of the store. Many said they are more likely to purchase brand names, with 60% agreeing that purchasing a brand name they trust is more important right now. Meanwhile, 61% of parents said that when buying products for their children, purchasing a product with a brand name they trust has become more important.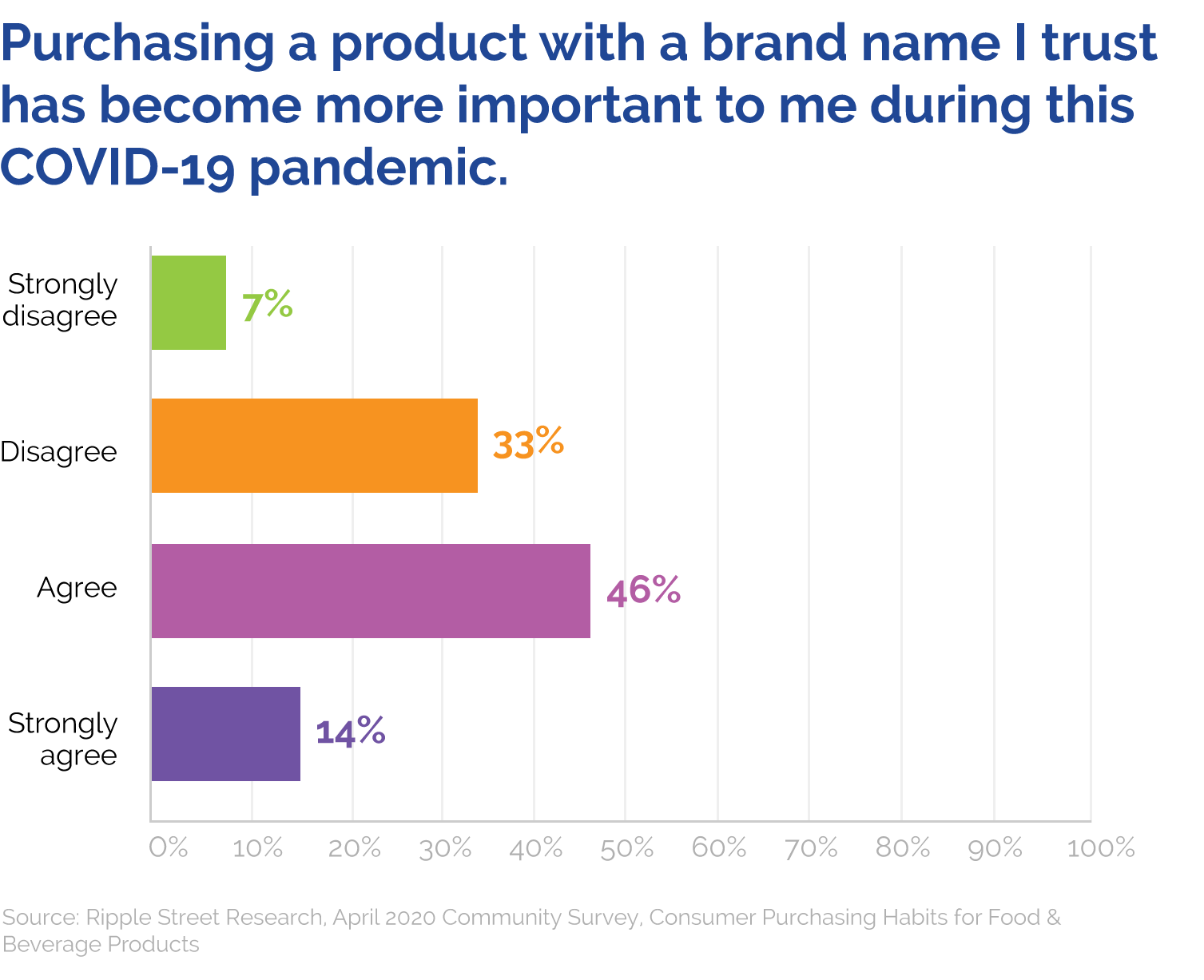 Fresh and shelf-stable are top considerations for food and beverage purchases
The top qualities that consumers look for when making food and beverage purchases right now are fresh food (68%) and shelf-stable (68%). This is interesting, because both qualities were well ahead of nutrition (56%) and calories (16%) in terms of importance among respondents. Many respondents (55%) said they did not expect to change their level of health-consciousness when selecting foods right during the pandemic. It's also worth noting that several respondents wrote in "availability" as an important quality right now, showing that many are adjusting their buying habits and menus around what is in stock when they visit the store.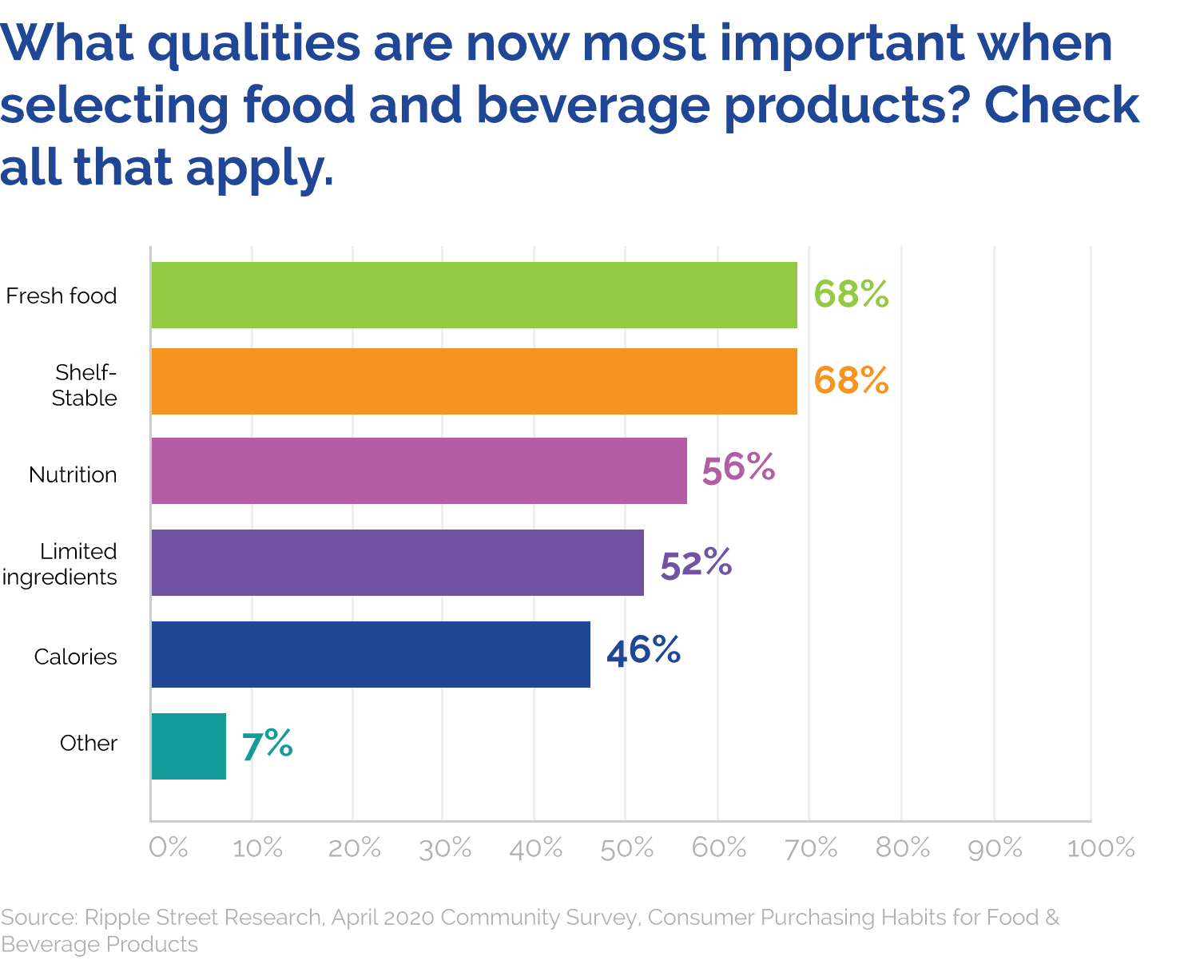 Fresh protein, such as chicken, steak, fish, or plant-based proteins, is the top item that consumers are selecting (89%), followed by fresh fruit (88%). Shelf-stable items such as canned goods (81%), frozen vegetables (79%) and frozen protein (68%) were incredibly popular as well.
Chips were the fifth-most popular item, with 73% of consumers saying they are buying them right now. Overall, 61% of respondents said they are buying more snacks during their time at home.
eCommerce makes gains
With many consumers preferring to stay in the comfort of their own homes, it's no surprise that online grocery purchases are popular. More than a third (35%) of respondents have shifted more to eCommerce options to purchase groceries during the pandemic.
Wine & beer are the drinks of choice
Nearly one out of every five respondents (19%) said they are consuming more alcohol during the pandemic, with the majority (67%) saying their habits have stayed the same. Wine (43%) was the most popular alcohol purchase, followed by beer/cider (39%) and spirits (31%).
Overall, these buying habits and preferences reveal that recognized brand names create a feeling of trust and safety for consumers, especially as grocery shopping has become a less frequent and more stressful task for many. Food and beverage products are the top product consumers would love to try while staying home. In these hectic times, knowing which qualities consumers consider when they purchase these products can help brands determine which products and messages to focus their marketing budgets on right now.