‍
March 30, 2020
This is the second in a series of weekly surveys that Ripple Street Research is conducting in the coming months. We hope these consumer insights will help our brand and agency clients navigate these unprecedented times, and better inform their strategic marketing programs going forward.
Key takeaways from Ripple Street Research's second Consumer COVID-19 survey:
92% of consumers would love to try Food & Beverage products while staying at home, while 91% would try Household Products (kitchen/home electronics, garden/outdoor)
TV, Movies & Music, Consumer Electronics, Toys & Games, Apparel &Accessories, Beauty, and Health & Wellness were all selected by 75% or more of consumers
Samsung, Apple, and Hasbro were the top three brands that consumers want to try at home while social distancing
As a growing number of Americans remain confined to their houses amid social distancing and statewide stay-at-home orders, they are motivated to find new ways to keep themselves occupied and entertained. As covered in our last post, many people are turning to familiar ways to pass the downtime, but they are also craving novelty and new experiences while staying safely at home.
This desire to interact and have new at-home experiences has created a distinct opportunity for family nights where households come together to interact with branded products and entertainment. In our latest survey, we sought to understand the types of products and brands that consumers would like to interact with while staying socially distant.
Looking to try something new
What consumers want most are Food & Beverage products (92%) and HouseholdProducts (91%). The near-universal desire to try new products in these categories shows that consumers are looking for new flavors and meals as many spend more time cooking at home than they did previously. They are also likely spending time performing spring cleaning and taking care of the house since they are spending more time at home.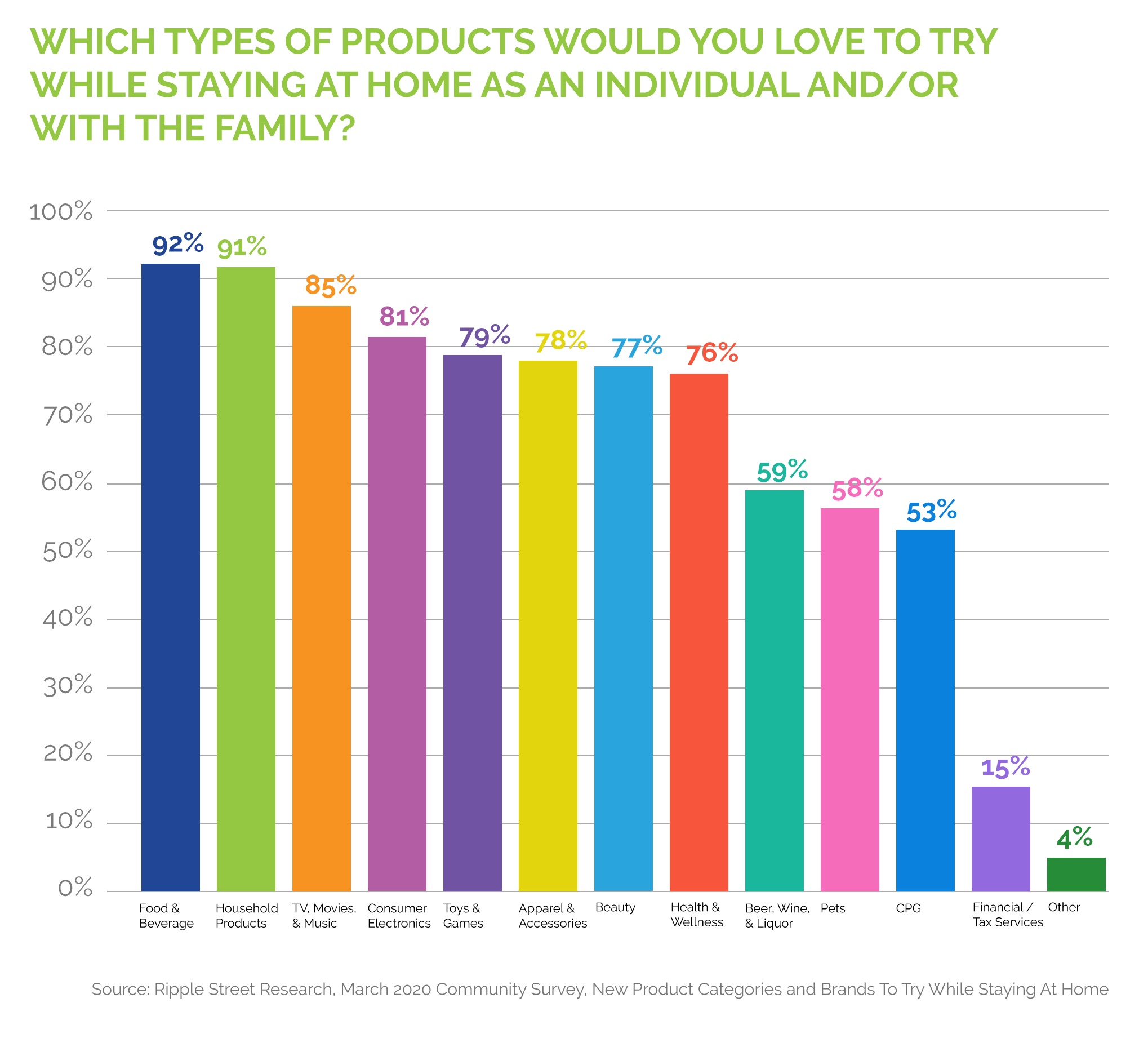 Those two categories weren't the only popular choices. At least three-quarters of respondents also said they'd like to try new TV, Movies & Music (85%), ConsumerElectronics (80%), Toys & Games (79%), Apparel & Accessories (78%), Beauty (77%),and Health & Wellness (75%). That's a total of eight categories where at least three out of every four consumers would like to try something new amid their time at home. This creates a great opportunity for brands to deliver new products and engaging experiences for the temporarily homebound.
Cooking, Cleaning, Kids, and Kicking back with TV
To better understand what kinds of brands consumers are looking to engage with, we asked respondents to name three brands they'd like to try at home. Respondents came back with more than 1,000 different brands, but there were some clear favorites.
Considering how much consumers are watching cable and streaming TV right now, it's perhaps no surprise that the most named brand, Samsung, is both a smartphone andTV manufacturer. Apple was the second-most popular choice, while two other TV manufacturers, Sony and LG, were in the top 10.
Parents are clearly thinking of other ways to entertain their children, with Hasbro being the fourth most commonly named brand. Nintendo, Lego, Disney, and Mattel all appeared in the top 20.
Home good brands were also mentioned, again proving that cooking and cleaning are among the top tasks for those staying around the house. KitchenAid cracked the top10, at number seven, while Dyson, Lysol, Tide, Clorox, Keurig, and Roomba all made the list.
While Food & Beverage was the most popular category of products for socially distant consumers, only one food brand, Kraft, was named in the top 10. Starbucks, Nabisco, and Nestle were in the top 30 brands.
It's clear that consumers are looking for new things to add to their daily routines to break up the monotony of staying in one place, creating a clear opportunity for brands to forge new connections. By better understanding how consumers are spending their time right now, brands can find opportunities to fit into both the daily tasks (i.e., cooking and cleaning) and stress relievers (i.e., toys, movies, and entertainment). This is a great time to help consumers experience new products, or perhaps see old products in a new light, creating brand advocates while lending a helping hand to families searching for novelty.
‍