April 24, 2020
With more time spent at home, consumers are looking for ways to stay occupied. It's no surprise that media consumption is up, with more time spent online, watching streaming video platforms, and using social media to interact with their friends, according to a Ripple Street Research survey of their community of local influencers, conducted from April 13th to 15th.
This is the fifth in a series of weekly surveys that Ripple Street Research is conducting in the coming months. We hope these consumer insights will help brands and agencies navigate these unprecedented times, and better inform their strategic marketing programs going forward.  
Key takeaways from Ripple Street Research's fifth Consumer COVID-19 survey:
76% of respondents said they are using the Internet more
Streaming video (+50%), social media (+56%), TV (+44%), and streaming audio (+12%) consumption have increased
Podcast (-17%) and radio (-32%) consumption have decreased
With many states planning to uphold stay-at-home orders well into May, consumers are looking for ways to stay occupied. Streaming video, social media, and internet usage are currently the most popular ways to pass the time, as consumers look for entertainment, engagement, and connection with the friends and family they can't see in person.
Streaming video reigns supreme
Consumers ranked streaming video, such as Netflix, Hulu, and Amazon Prime Video, as the type of media they were consuming the most, with 29% saying it was their top choice. Streaming is easily more popular than traditional TV, which a mere 13% of respondents said was the format they spent the most time with. This aligns with other reports that platforms like Disney+ are adding subscribers far faster than expected, and that cable may struggle amid the absence of live sports. When comparing current usage to pre-pandemic times, 64% of consumers said they were watching more streaming video, compared to 52% who said they were watching more TV.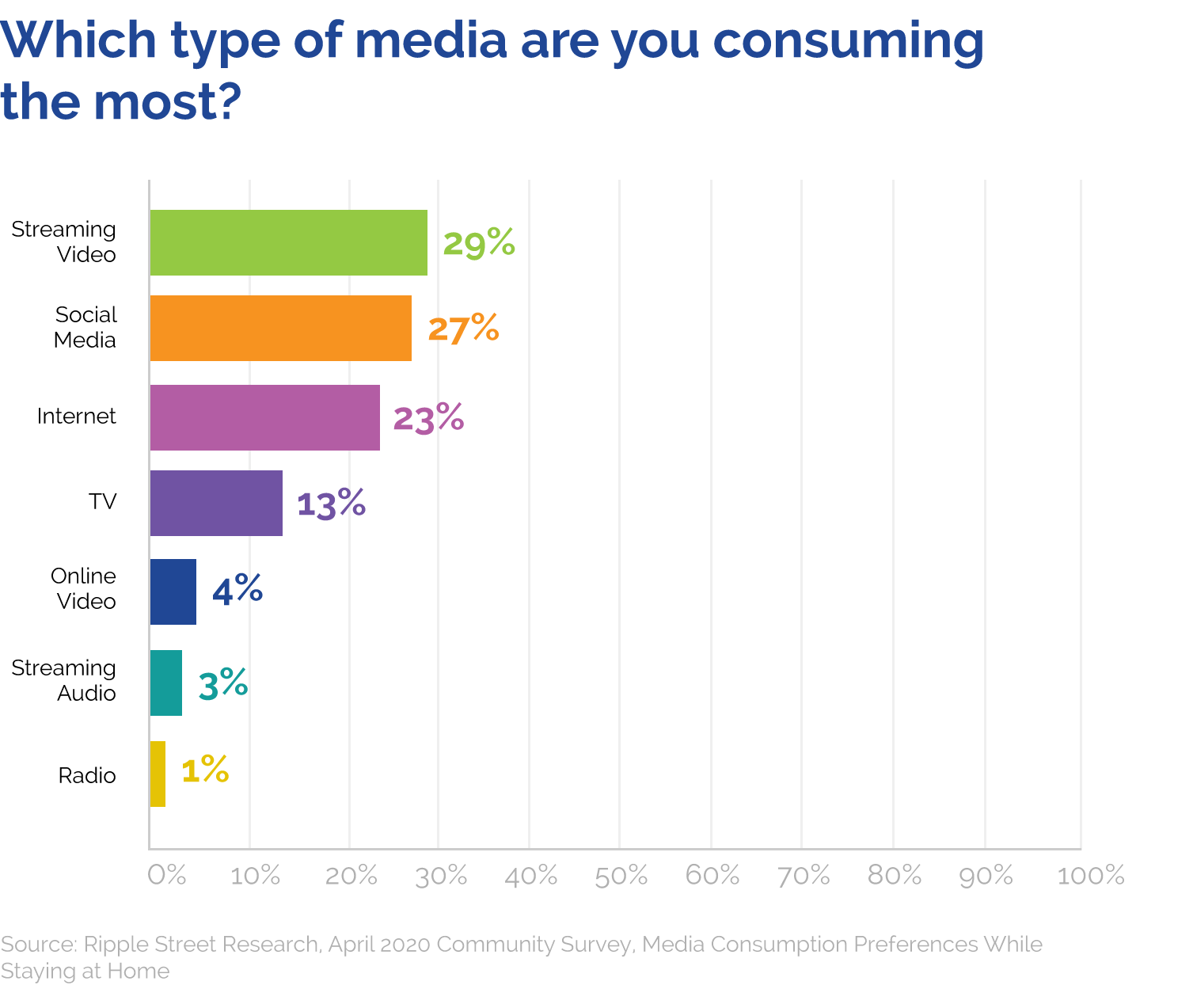 Internet, social media super popular as well
Consumers stuck at home are spending more time online, with a 7% saying that they are spending more time using the internet than before. That's followed by streaming video, and then social media, with 61% of respondents saying they are spending more time using Facebook, Instagram, Twitter, and Pinterest.
When ranking platforms by time spent, social media was second, with 27% of respondents saying they spent the most time with it, followed by the internet, with 23% of respondents.
Podcasts, radio suffer without commutes
Despite the uptick in COVID-19 related podcasts, with consumers streaming more video, it means they do not have time to sit and listen to podcasts or radio. Nearly 30% of respondents said they are spending less time listening to podcasts, while a whopping 43% said radio time is down. These shifts are likely due to the loss of daily commutes – with consumers working from home, they aren't turning on the radio in their cars or listening to podcasts as they ride busses and trains.
Meanwhile, print media remains steady, with 56% spending the same amount of time with print, 22% spending more time, and 22% spending less. Clearly, visual media like streaming video, TV, social media, and the internet are dominating consumers' attention as they try to stay entertained at home. It's clear that there is a stratification, and that subscription streaming video platforms may be the big winners of this moment, especially with subscriptions soaring at unexpected rates.
Meanwhile, more time spent online and with social media is an encouraging sign to brands looking to reach consumers. Online advertising represents a clear path to getting brands noticed, as does working with social media influencers. Leveraging grass-roots influencers at this point in time could provide incredible value, as these influencers can post about products and make recommendations, all of which are far more likely to be seen by friends and family who are eagerly scrolling their newsfeeds.