April 24, 2020
With many Americans continuing to stay home out of precaution, they are coming to terms with a new sense of what feels normal while still thinking about their future. Some are adjusting their spending habits, while others are thinking about their jobs and future travel plans, according to a Ripple Street Research survey of local influencers conducted from April 13th to 15th.
This is the fourth in a series of weekly surveys that Ripple Street Research is conducting in the coming months. We hope these consumer insights will help brands and agencies navigate these unprecedented times, and better inform their strategic marketing programs going forward.
Key takeaways from Ripple Street Research's fourth Consumer COVID-19 survey:
40% of respondents said they are not comfortable spending money in the same way they were before 
58% said they plan to travel as soon as it is safe 
20% of respondents disagree with the statement that they believe they will have a job in three months
With concerns about the economy and record levels of unemployment, many Americans have been forced to adjust their habits and behaviors to life under quarantine. Spending, travel plans, and even expectations of employment are all in flux, according to our latest survey.
Consumers adjust spending habits amid uncertainty
As news of layoffs and furloughs dominate the headlines, many consumers are thinking about their spending habits amid what could be a prolonged period of uncertainty. Nearly 40% of respondents said they disagree or strongly disagree with the statement, "I feel comfortable spending money in the next three months, regardless of the COVID-19 pandemic."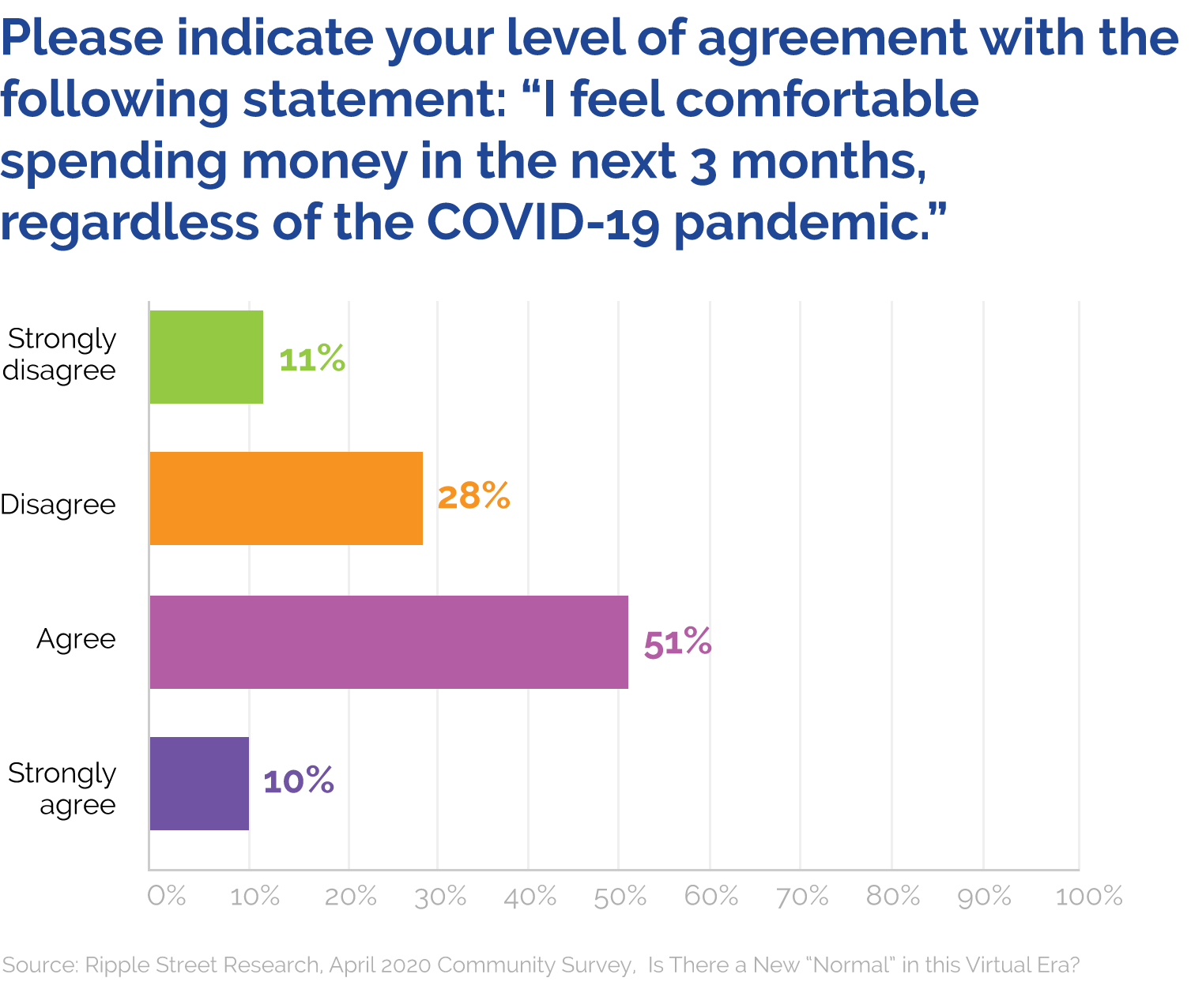 While 79% of respondents are comfortable about their level of employment in three months (32% "strongly agree" that they will remain employed), a shocking 21%, or one out of every five respondents, do not agree that they may have a job at the end of that time period. This signals a great deal of fear and anxiety around the unpredictability, and is definitely forcing consumers to adjust their spending habits.
Ready to travel when able
With most Americans at home all day, every day, it's no surprise that many are daydreaming about vacations. Among our respondents, 58% plan to travel as soon as it is safe, signaling that the travel industry could be in for a quick rebound once the virus is contained and stay-at-home orders are lifted.
While it's still not clear what the future holds for American consumers and the economy, these insights offer brands a look into how consumers feel at this moment in time. The "new normal" will continue to shift as new developments are made, but one thing is for sure—many consumers are adjusting their lives, habits, and spending patterns to this unprecedented moment.
‍