July 6, 2020
Consumers have been experiencing the new "normal" since the lockdowns began in late March. With so many consumers at home, media consumption has risen exponentially. Naturally, with the rise of media consumption came advertisements—a bucketload of them—many centering around COVID-19. Most consumers felt comfortable with COVID-19 ads, according to a Ripple Street Research survey of our community of local influencers, conducted from April 27th to 29th.
This is the seventh in a series of weekly surveys that Ripple Street Research is conducting in the coming months. We hope these consumer insights will help brands and agencies navigate these unprecedented times, and better inform their strategic marketing programs going forward.
Key takeaways from Ripple Street's seventh COVID-19 survey:
· More than two-thirds of Americans are comfortable with COVID-related ads
· There's a nearly even split between consumers thinking that companies are showing COVID ads out of genuine concern, and those remaining think it's for PR and revenue-generating purposes
A flashback: the H1N1 flu pandemic
During the H1N1 flu pandemic back in 2009, marketers were more focused on relaying the information as quickly as possible, and less on humanizing their commercials. This included providing simple and achievable prevention advice, move as quickly as possible if the person got infected, and give a reassuring face to the fight.
Top marketers navigate COVID-19 ads
Chief Marketing Officers around the country have been navigating the "new normal," and what COVID-19 means for their brand's awareness, and in some more extreme cases, their very survival. So, striking the right tone with advertising in combination with corporate social responsibility to those on the front lines is critical to their success.
A great example of a brand putting this into action is Lowe's. Along with their $170 million commitment toCOVID-19 relief, the company announced a new campaign where people can make their own thank you signs to place outside of healthcare workers' homes.CMO Marisa Thalberg, said her team saw the signs popping up organically around the country, and wanted to "fan the flames of positivity."
"Home has never mattered more, and we can't begin to unpack the new emotional importance of home," Thalberg said. "Right now, we want to evolve our messaging to speak with a different level of connection and empathy."
How consumers respond to today's ads
When Ripple StreetResearch surveyed consumers on their advertising preferences, we wanted to see how consumers felt about advertising pre and during COVID-19, and on which channels they wanted to view them. These insights would give brands the information they need to make strategic marketing decisions when promoting their products during unprecedented times.
‍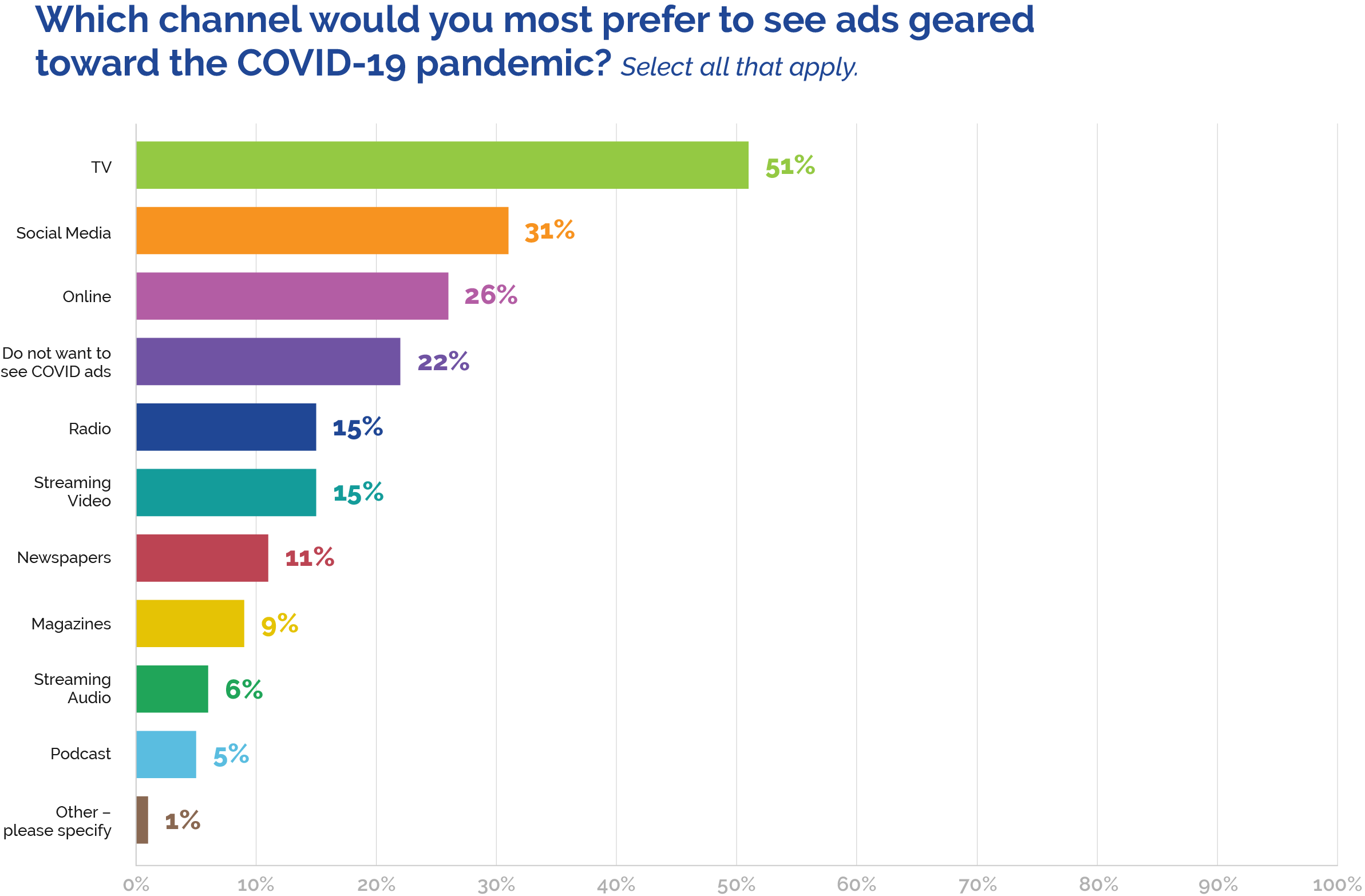 ‍
It turns out that more than two-thirds of Americans are comfortable with COVID-related ads. Many consumers wanted to see a mix of COVID and non-COVID ads (72%) versus 28% that preferred only non-COVID ads.
When it came to platforms, consumers preferred to see non-COVID ads on social media (66%), TV(60%), and online (45%). Inversely, consumers wanted to see COVID ads on TV(51%) and social media (31%). Other ads that consumers wanted to see were retail (57%) and education (41%) based ads. This is interesting since retail and education have changed drastically since COVID-19, with both transitioning to virtual purchases and courses since the pandemic hit.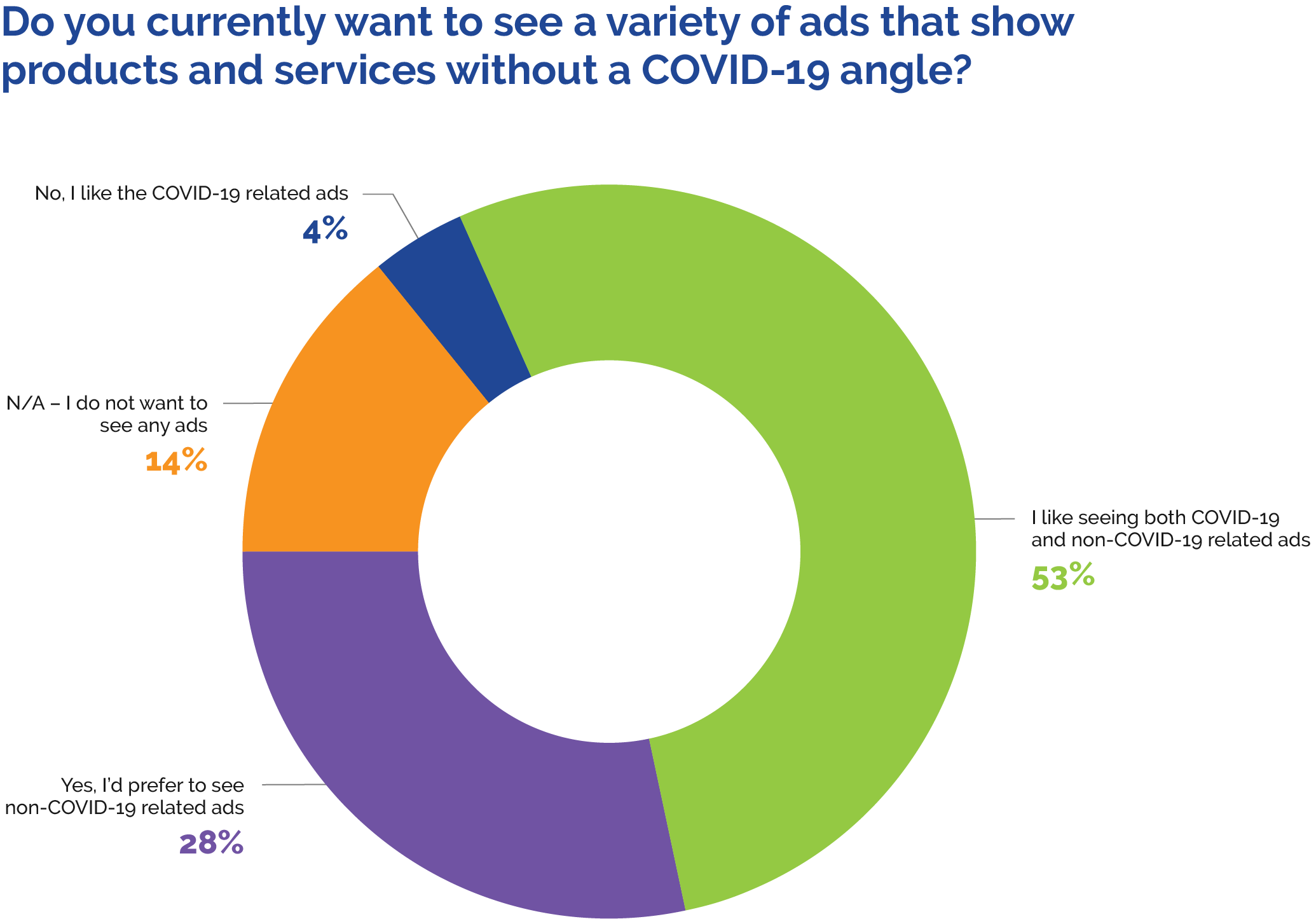 In terms of why companies are showing COVID ads, there was a nearly even split between consumers thinking that companies are showing these ads out of genuine concern, or for PR and revenue-generating purposes.
While consumers do their best to stay occupied amid the lack of structure and ability to enjoy pre-COVID activities, brands can provide informative ads that show both their corporate social responsibility toward COVID-19 and offering deals during this health crisis and economic downturn.